Mostra personale all'Art Studio Cafè (Roma), 2012 / Solo exhibition in Art Studio Cafè (Rome, Italy), 2012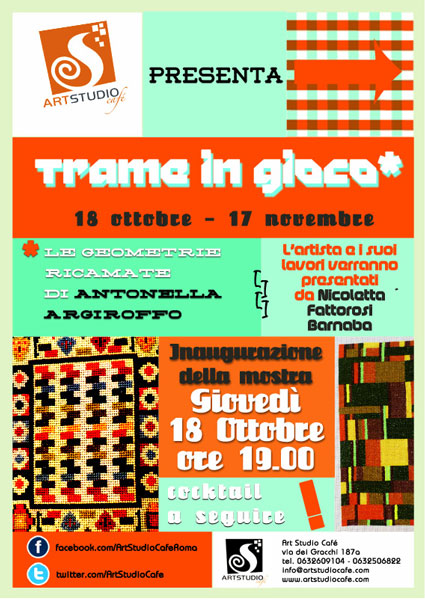 La sera dell'inaugurazione la curatrice della mostra ha detto: "Antonella Argiroffo, biologa di mestiere. ricamatrice per passione dipinge con ago e fili di tutti i colori con passione e entusiasmo. La mostra "Trame in gioco" ci ha portato in mezzo alla luce e ai colori, colori che scaturiscono dalla sua anima e che ci hanno dato sensazioni diverse e fantastiche. Nelle sue opere, create con attenzione e pazienza, c'è un percorso di vita e di cultura che Antonella è riuscita a sintetizzare con armonia, intelligenza ed estro."
"Ogni "quadro" ci offre sensazioni diverse; ci è subito venuto in mente quanto afferma Goethe, nel suo libro "Teoria dei colori", quando ritiene che i colori siano qualche cosa di vivo, di umano, che abbiano origine indubbiamente nelle varie manifestazioni naturali, ma trovino la loro composizione e il loro perfezionamento nell'occhio, nel meccanismo della visione e nella spiritualità dell'animo dell'osservatore. I colori non possono essere spiegati con una teoria solo meccanicistica ma devono trovare spiegazione anche nella poetica, nell'estetica, nella psicologia, nella fisiologia e ne simbolismo. Così noi ci siamo trovati a godere di sensazione varie, che ci hanno anche riportato a temi di pittura etnica, a colori visti e apprezzati in Mondrian e Kandinsky".
In Artstudio c'è stata attenzione e partecipazione, in più, dalle pareti occhieggiavano queste opere ricche di vita e vitalità che hanno contagiato i presenti, dando alla serata un clima di allegria, ancor prima del brindisi finale.
During the opening night of the exhibition the curator said: "Antonella Argiroffo, biologist for work but an artist by passion, paints with needle and thread of all colours with passion and enthusiasm. The exhibition "Trame in gioco" led us in the middle of the light and colours. The colours flowed from her soul and gave us different and fantastic feelings. In her artworks, created with care and patience, there is a way of life and culture that Antonella was able to synthesize with harmony, intelligence and creativity.
Each "painting" gave us different feelings. We immediately remembered what Goethe says in his book "Colour theory" when he says that the colours are alive, human and they certainly originate from various natural phenomena but they find their composition and their improving in the eye, in the mechanism of vision and in the spirituality of the soul of the observer. The colours must also be explained with the poetics, aesthetics, psychology, physiology and symbolism. So we had various feelings that reminded us ethnic designs and the colours seen and appreciated in Mondrian and Kandinsky".
In Art Studio Cafè there was attention and participation and the works full of life and vitality have created an atmosphere of joy…..even before the final toast.