Mostra itinerante "Il Filo e i Segni", 2013/ Traveling exhibition "Il filo e i segni", 2013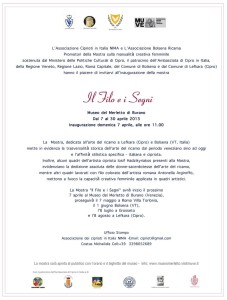 Scopo della Mostra è stata la valorizzazione e la salvaguardia delle Arti Applicate Femminili nonchè la tutela e la promozione della cultura e dell'arte nel settore del ricamo, del merletto e del tessile in generale.
La mostra è stata dedicata all'arte del ricamo a Lefkara (Cipro) con presenza di oggetti antichi ed ha evidenziato sia la trasversalità storica dell'arte del ricamo dal periodo veneziano sino ad oggi sia l'affinità stilistica specifica italiana e cipriota.
La Mostra è stata ampliata dalla presenza di alcuni quadri dell'artista cipriota residente a Venezia Iosif Hadzikyriakos e da quadri ricamati con fili colorati dell'artista romana Antonella Argiroffo.
La mostra è stata inaugurata nell'aprile 2013 al Museo del Merletto di Burano (Venezia) per proseguire in maggio alla Casina delle Civette dei Musei di Villa Torlonia di Roma, in giugno a Bolsena (Viterbo), in luglio a Montemerano (Grosseto) ed in agosto a Lefkara (Cipro).
The aim of the exhibition "Il Filo e i Segni" was the promotion and the protection of Female Applied Arts and the defence and appreciation of culture and art in the field of the embroidery, lace and textiles.
The exhibition was dedicated to the art of the embroidery in Lefkara (Cyprus) with the presence of ancient objects and it showed the historic continuity of the art of the embroidery from the Venetian period till now and the Italian and Cypriot specific stylistic affinities.
In the exhibition were displayed also some painting by Iosif Hadzikyriakos, Cypriot sculptor living in Venice and some very coloured embroidered pictures by the Roman artist Antonella Argiroffo.
The exhibition was opened in April 2013 in the Lace Museum in Burano (Venice). It continued in May in the Casina delle Civette (House of the Owls), one of the sites of Villa Torlonia Museums in Rome, in June in Bolsena (Viterbo-Lazio), in July in Montemerano (Grosseto-Tuscan) and in August in Lefkara (Cyprus).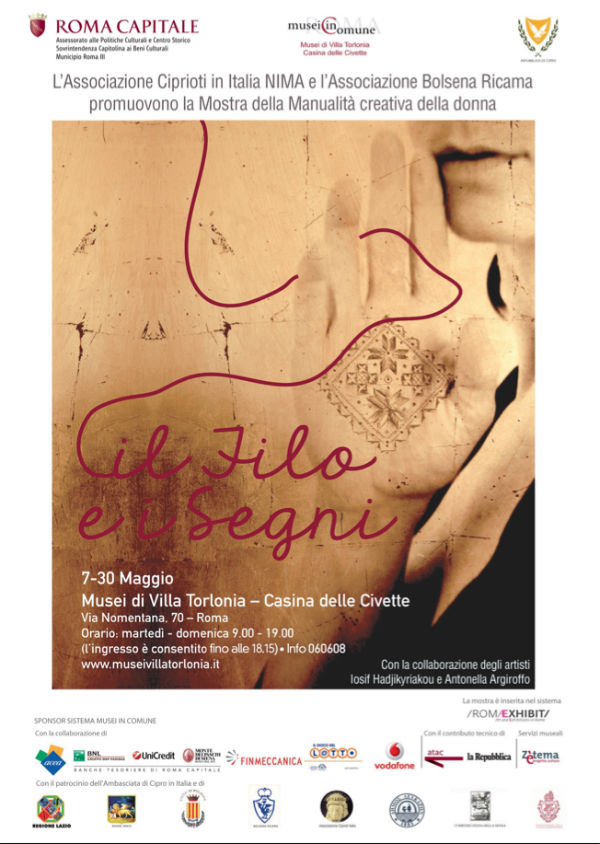 Clicca qui per scaricare la brochure in formato pdf