"Tramando…Tessendo"/"Plotting…..Weaving", Zagarolo (Rome)
"L'occhio sull'universo" realizzato per la mostra di artigianato tessile "Tramando…Tessendo"
"The eye on the universe" made for the exhibition "Plotting…..Weaving"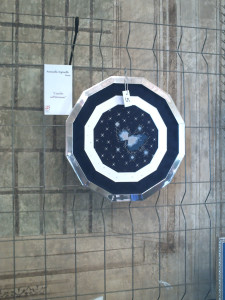 Punto croce
Cotone su cotone con filo metallico
Dimensioni ricamo: 23 cm x 23 cm
Cross stitch
Size of the embroidery (made of cotton and metallic thread): 23 cm x 23 cm
Tema della mostra :"Spazio: un sogno possibile. L'uomo e la conoscenza"
Questo mio lavoro è un omaggio al telescopio, strumento straordinario perfezionato da Galileo Galilei (XVII secolo) e che gli consentì di poter effettuare delle rivoluzionarie osservazioni astronomiche. Da allora e grazie al telescopio l'uomo ha potuto progredire costantemente nella sua conoscenza dell'universo che ci circonda. Ho quindi immaginato di avere a disposizione questo strumento, dirigerlo verso il cielo, osservare gli astri più grandi e più piccoli che circondano una galassia dalla forma irregolare e riportare le mie osservazioni su tessuto, descrivendo con il filo la volta celeste.
Theme of the exhibition: "Man and knowledge"
My work is a tribute to the telescope, extraordinary instrument improved by Galileo Galilei (XVII century)that allowed him to make revolutionary astronomical observations. From that time, thanks to the telescope, man has made steady progress in his knowledge of the universe. So I have imagined to have this tool, to point it at the sky, to observe the large and small stars surrounding an irregular shaped galaxy and then to transfer with the thread my astronomical observations on fabric.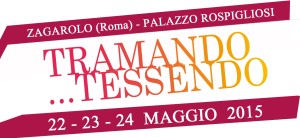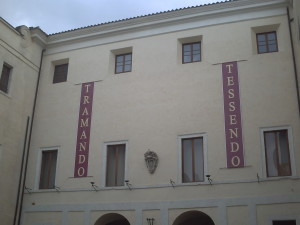 Esterno di Palazzo Rospigliosi
Outside of Rospigliosi Palace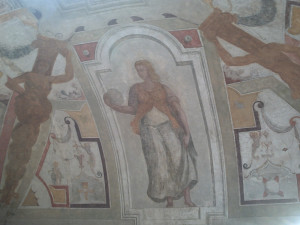 Soffitti affrescati di Palazzo Rospigliosi