XV Concorso "RICAMARE L'UMBRIA" / XV Competition "EMBROIDER UMBRIA"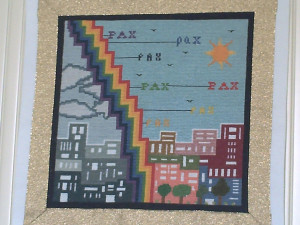 VALTOPINA (Perugia), 2015
XV Concorso "RICAMARE L'UMBRIA"
"La tovaglia della Pace"
L'arte, la natura e la spiritualità dei luoghi dell'Umbria raccontati dal filo
Ispirazione: La marcia per la Pace che si svolge annualmente in Umbria è stata la fonte di ispirazione di questo quadrato. Il paesaggio ricamato sulla sinistra del quadrato dai toni grigi e dall'atmosfera cupa richiama le situazioni di sofferenza provocate da conflitti e guerre. Al di là dell'arcobaleno là dove trionfa la pace e l'armonia tutto appare pieno di luce e di colori perché la PAX porta con sé serenità e gioia. Il quadrato che ho ricamato vuole essere un grido di speranza ….speriamo veramente in tempi migliori!
Exhibition of handmade embroidery and fabric
VALTOPINA (Perugia-Umbria), 2015
XV Competition "EMBROIDER UMBRIA"
"The tablecloth of the peace"
Art, nature and spirituality of Umbria places narrated by thread
Inspiration: The march for Peace that takes place every year in Umbria has inspired this handwork. The landscape on the left, embroidered with various tonality of grey presents a gloomy atmosphere to evoke the suffering caused by conflicts and wars. Beyond the rainbow peace and harmony triumph and everything seems full of light and colours because peace (pax) brings serenity and joy. This embroidery looks to hope…hope for better times!